YELLOW EVENING PRIMROSE ….. (Oenothera Lamarckiana)
Akka's Natures Way+living
YELLOW EVENING PRIMROSE

(Oenothera Lamarckiana)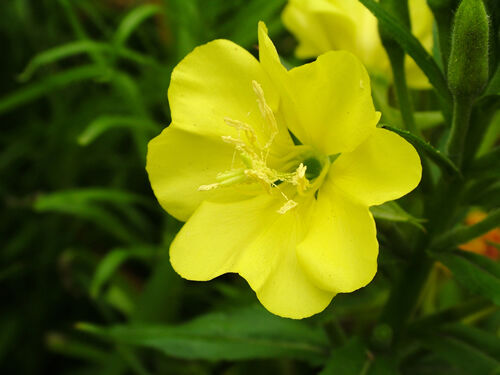 Common names: evening primrose, night willow herb, evening star, fever plant, field primrose, King's cure all, scabish, tree primrose, primrose, moth's moonflower. Evening primrose is a biennial plant with numerous, crinkled, lance-shaped leaves and green stems with red splotches.
Flowers bloom after sunset andare yellow, fragrant with four broad petals.
 * Propagation: Relatively easy to propagate from seeds. Germination takes 15 to 20 days. When large enough to handle thin the seeds to 30 cm. (12 inches). Sow seed less than 1.5 cm deep indoors for spring transplanting and bloom the first year. 
 * Cultivation: Thrives in full sun. Self-seeds freely. Tendency to develop powdery mildew on leaves and root rot in wet conditions. Needs a long, hot, dry season for seds to mature. Seed shatters easily.
* Soil Type: well drained sandy soil and a pH of 6 to 8.
* Harvest: Collect seeds when ripe, Seeds should contain…
View original post 5 more words
3 responses